A first encounter of the third kindness
September 27th, 2008 under Behind the Scenes, Miscellaneous. [ Comments: 5 ]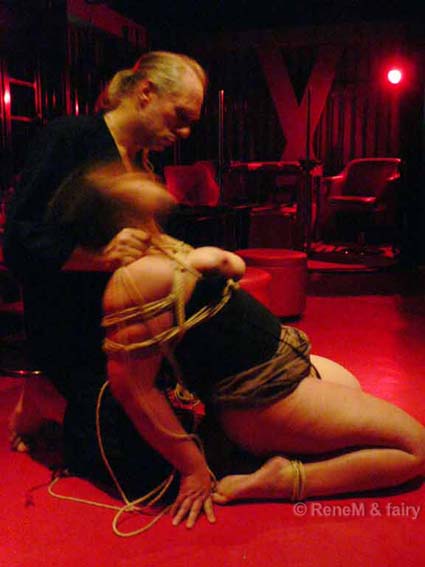 This time we are bringing you a special report sent in by a lady fan. So instead of giving you the usual fare as seen from the top, we are treating you to a female's perspective, as she shares her thoughts and feelings at the receiving end of Osada Steve's kindness.
This is the first of two reports of bondage sessions with Osada Steve. This encounter took place at Roppongi Jail, the second, at Studio SIX.
TB
Read more »
---
The Casting Couch
June 20th, 2008 under Miscellaneous. [ Comments: 2 ]

If you've ever wondered how certain actors and actresses got into a big time Hollywood picture, just remember two words: casting couch. Male or female, it doesn't matter in hedonistic Hollywood. Those who don't sufficiently impress the producer sometimes find themselves heading a bit north and a bit west to the Mecca of porn, otherwise known as the Sin Fernando Valley. They can break into pictures that way but their work invariably goes straight to DVD. You might think that any girl wandering into the dojo of Osada Steve gets a place on the card at Kinbaku Live Night at Studio SIX. You would be wrong. They get a tryout with no guarantees. Read more »
---
Rocking the Za — Osada Steve in Yokohama
June 7th, 2008 under Miscellaneous. [ Comments: none ]

I have some hard drives lying around and I started wondering what was on them. A couple have completely crapped out. One, a firewire drive, got corrupted, I think. You have to be careful how you "un-mount" these things from your computer. I didn't know that at the time. So I'll attribute that drive's problems to pilot error. Another one, a USB drive, just died for no known reason. These are external drives, of course. I've heard that sometimes the problem isn't the drive itself but, rather, the piece of shit enclosure. So, if you can pry the fucking drive out of the case, you can maybe connect it up and get the data off. Worth a try if you're ever in this position. It's on my To Do list.
I noticed that an edit I did of a Randa Mai live show was on one of the good drives. This is really a terrific show and it can be found Read more »
---
Back in Town and Ready to Rumble
June 5th, 2008 under Miscellaneous. [ Comments: none ]

I received an email from Osada Steve informing me that he is back in Tokyo. Steve has been in Germany for a month performing and giving workshops and generally checking up on things, while also giving special instructions in Osada-ryu. If you've been patiently waiting for Steve's return and need your shibari fix in a bad way, don't go to Kinbaku Live Night at Studio SIX this coming Saturday evening — no one will be there. Instead, you'll need to get your ass over to Yokohama. That's where Steve will be performing Saturday night as well as Sunday and Monday. Kinbaku Live Night at Studio SIX will resume its regular schedule on June 14.
As far as the Yokohama shows are concerned, here are some reports from a future post on the occasion of the earthquake that crippled Japan in March 2011.
Sometime ago, Steve sent out a missive to a select few individuals concerning his thoughts on shibari and kinbaku and the terms bakushi and nawashi, Read more »
---
Ryo-chan Takes to the Air
June 2nd, 2008 under Miscellaneous, Video. [ Comments: none ]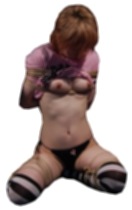 I mentioned previously that Ryo-chan often favors us with a self-bondage routine when she appears at Kinbaku Live Night at Studio SIX. This wasn't exactly accurate. What happens is, Osada Steve binds her in a certain way and then she takes to the air on her own, swinging, gyrating and generally contorting her body into all kinds of positions in an acrobatic and arousing rope dance.
There are a few artists out there who do a purely self-bondage routine. It is quite remarkable how they are able to tie themselves up and even hoist themselves into the air upside down. I first saw this sort of thing in a movie called Shocking Asia. Read more »
---
Deft Touch of the Five Finger Technique
May 12th, 2008 under Miscellaneous, Video. [ Comments: none ]
Osada Steve is in Germany so I'm taking this opportunity to put up a gallery of pictures of Aiko-chan from a previous Studio SIX shoot. I usually take between 400 and 800 photos on an average evening at Kinbaku Live Night at Studio SIX. I've gotten more used to my camera by now and I'm much happier these days with the settings I've arrived at through pure trial and error. As a result, I happen to like a much larger percentage of the photos I take of late. The bad part is, I can't fit all of them into a single gallery.
Same thing goes for the video, which is why I'm putting up a new movie of Aiko-chan I didn't have space for in the past.
The video reminded me of my comic book-reading days. That was a long time ago and if I hadn't thrown them all away decades ago, I'd be a lot richer now. But that's water under the bridge.
These comic books always had ads for mysterious, exoctically-named martial arts. No bully would ever kick sand in your face again if you sent away for the cheap booklet purporting to teach Dim Mak, Ketsugo and, my personal favorite, Yubiwaza. I think Dim Mak is Chinese for death touch or some such thing. Ketsugo sounds Japanese but, I must say, I've never heard the word in Japan. Ketsu can mean ass, for what it's worth.
Then there's Yubiwaza, or finger technique. That's got to be the greatest martial art of them all. Destroy your attacker using just your little finger.
Anyway, watching this latest video of Aiko-chan, I saw Steve apply a kind of yubiwaza, just not the type that was advertised in the comic books. This is in conjunction with his favorite newaza. He also lets Aiko-chan have it on her lovely ketsu with the short, bamboo rod known as konjobo.
The only thing missing is the Dim Mak.
KabukiJoe


---
New Face at Studio SIX
April 25th, 2008 under Miscellaneous. [ Comments: none ]
This, by the way, is a rather common term in Japan. Instead of saying newbie or a new girl, they like to say new face. I thought this sounded a bit odd when I first heard it but I've gotten used to it. In fact, I've gotten used to a lot of Japanese English — so much so that I fear I've forgotten some of the standard ways of expressing things.
Oh well, it's a small price to pay especially since I, and other Studio SIX goers, will have the opportunity to see a new face on display Saturday at Kinbaku Live Night at Studio SIX. I don't know her name — yet. And I hear she's a wee bit shy. But that won't stop me from commemorating the cherry busting of a Studio SIX virgin in photos and video, bwahaahaahaa.
So, if you like this sort of thing (and who the hell doesn't?) Studio SIX is the hottest ticket in town Saturday night.
To make the wait a little less agonizing, I'm posting here some pictures I've had on my harddrive for some time now courtesy of Osada Steve. There are some black and white ones thrown in for those of you who like that sort of thing. Some people just go for that artsy fartsy look. As for me? Life is in color. And the color photos in this batch are simply amazing.
KabukiJoe
---
Moving Up the Charts — the Big 10 K
April 18th, 2008 under Miscellaneous, Video. [ Comments: none ]
I just checked the YouTube vid and we're now at over 9,600 views.
Speaking of YouTube, there's a solo performance of Asagi Ageha I should be editing soon. This one features her sexy acrobatics while clinging to that long, sheer piece of fabric. This is a different performance from the one at Tokyo Decadance, just the fabric is the same. When it goes up on the interwebs, you'll find out here first. Not to be missed. And now that I'm on the subject of Ageha-chan, I checked the referral numbers and her site is in the number one position. TokyoBound has fought its way into second place but we are a distant second. In case you didn't know, Ageha-chan is very popular in Japan. She has a large and dedicated following.
As I've mentioned, Osada Steve and Ageha-chan will be in Osaka this coming Sunday. They have to leave early in the morning to catch the shinkansen in order to arrive on time for the afternoon's festivities. As such, it looked like Steve might cancel Kinbaku Live Night at Studio SIX this Saturday but I recently got word that Studio SIX is on as usual and that Aiko-chan will be there. If you dig slender, sexy girls with amazing tattoos, then Studio SIX is the place to be Saturday night.
To celebrate the happy news, I've included a couple of photos here and a new video of Aiko-chan from footage of last week's Studio SIX shoot. One of the photos isn't actually Aiko-chan but I don't think anyone will complain.
KabukiJoe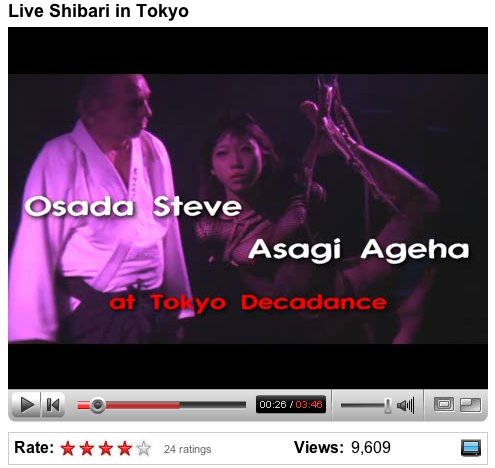 ---
Yukimura Haruki (雪村 春樹) Videos Now Online
April 7th, 2008 under Miscellaneous. [ Comments: none ]

I neglected to mention this before but Osada Steve recently finalized a major deal with Yukimura Haruki sensei, one of the most renowned nawa experts in Japan, to stream a huge number of his videos online at JapanBondage.tv. I just checked the link and there are already several long videos available there with many more to come. This is a great opportunity to see videos that are impossible, or nearly impossible, to find outside of Japan. There are, of course, many other videos available as well, including ones of Steve himself, Randa Mai, Saotome Hiromi (早乙女宏美) and many more. And I recently heard an interesting tidbit: It is becoming increasingly difficult to shoot videos of live performances.
Apparently, this has to do with the problem of Read more »
---
I'm Seriously Hacked Off
March 21st, 2008 under Miscellaneous, Video. [ Comments: none ]
Because we were hacked.
This all started when Osada Steve sent me an email detailing how it is possible to watch YouTube videos at higher quality. Like many bloggers, I use a separate software product to write and edit my posts instead of the online editor that comes with the blogging application.
I went to change six characters of code in the previous post which was titled, "Seeing Red at Studio SIX" and all hell broke loose. While I was able to upload the post, it came out looking like shit and none of the links worked. I spent a few hours trying to save that post. But just getting it back to its original state proved impossible.
Just to be sure, I looked at Read more »
---