This is a repost from the www.TokyoKinky.com Newsletter.
As regular readers will know, Osada Steve is a true rope master who practices the Osada-ryu school of shibari (kinbaku) bondage and is something of a legend in the Japanese BDSM scene.
We interviewed Osada-sensei about six months ago to find out more about his amazing career, how he entered the secret world of shibari rope bondage, and his insights on the future of kinbaku.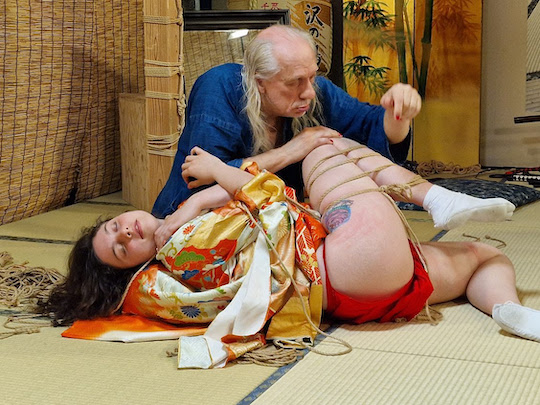 Now he has let us know about a new project he recently launched: a "toy salon" where top-quality Japanese female pleasure items can be tested under the expert guidance of trained counselors.
In addition to the various tutorials and sessions Osada offers online and in person in Tokyo (not to mention other cool services like kinky bachelor's parties and nyotaimori!), he has a "toy salon" event every first Monday of the month (or by appointment) at his studio in Tokyo.
The currently available toys are these enticing ones provided by Kanojo Toys, the largest and widest source of Japanese adult toys with new products added daily.
Osada-sensei considers this a "giving back to the community" campaign: he wants to spread the word about adult toys and let people explore their bodies. In his typically astute fashion, he also understands how his work connects to broader societal issues (and thus, sexual wellness).
He tells us:
In my life as kinbakushi (緊縛師) and semeshi (責め師) I often encounter lonesome women.

In Tokyo, where human relationships are often superficial, many are going through long periods without sex, partners, or lovers. Some have given up sex altogether. Others have never experienced an orgasm with a man.

It is hard to find someone that understands a woman's feelings. This is a societal problem because men in Tokyo are often stressed out and preoccupied with non-committal gratification.

Many women have resigned their sexual activity to masturbation. Sometimes with the help of toys to find release.
If a demonstration of such toys sounds like the kind of thing you'd like to try, you should definitely swing by Osada's kinbaku studio in Ikebukuro, Tokyo.
The "try before you buy" toy salon session currently costs less than $5, so is highly recommended. You can kame reservations via Osada's Kinbaku Shop.