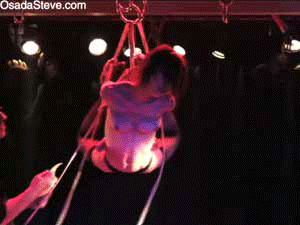 Before cutting to the chase, allow me to introduce myself as the new editor for this fan site (or fan blog, if you will). I go by the name of TieBreaker. Before you start speculating how I became known by that handle, let me assure you it has nothing to do with sub poaching. In fact, before I could start my cushy job at the editor's desk I had to promise not to poach any of Osada Steve's models . . . though, between you and me, I think an occasional defection wouldn't exactly cause his harem to collapse. (Mental note to self: Gotta find out one day how Steve manages his flock, then post it here under "Secrets Revealed".)

I have been living in Japan for quite some time, and am familiar with most of the names and faces on the professional SM circuit. I also do know a thing or two about Shibari, though I prefer to leave public play to others.
Now, did I say cushy job? Well, it's not that I'm sitting at a desk dreaming up juicy blog posts all day long. I spend most of my time scrubbing the floor of the Osada Kinbaku Dojo, building sets, shooting video and stills, and dispensing tissues to the girls to wipe their tears . . . so that the maestro has his hands free to focus on his "work".
Fast forward to the task at hand, which is to announce the twelfth (12th) anniversary of the legendary Kikkou website.
Back in July, 1996 Kikkou became the first English-language website explaining the enigmatic world of Shibari. It was founded by Mr Sekine, who packed it with galleries by renowned bondage photographers Akio Fuji, Gaku Fukada, Ken Annaka, and others; as well as illustrators like Kiyoshi Ikejiri, Romain Slocombe, Atsushi Tani, and Antoine Bernhart.
Mr Sekine generously splashed the pages with field reports about "secret" Shibari gatherings by Osada Eikichi (長田英吉), Akechi Denki (明智伝鬼) and other Kinbaku legends.
He even went so far as to producing tutorials with Randa Mai (乱田舞) and Shima Shiko, providing step-by-step instructions on ties like ryo-tekubi shibari (両手首縛り), kotobu ryo-tekubi shibari, momo shibari (腿縛り), takatekote (高手小手), chokushi fudo ippon shibari, isujyo kokai shibari, komon sarashi shibari, gassho shibari, kami shibari, kainan santen, hishinawa (菱縄), kikkou shibari (亀甲縛り), ebi shibari (海老吊り), kubinawa (首縄), plus various suspension techniques such as kata-ashi-zuri (片足吊り), ryo-ashi-zuri (両足吊り), tanuki shibari (狸縛り), gyaku-ebi-zuri (逆海老吊り), and more.
Kikkou had such an impact on Western rope enthusiasts that it spawned a whole new generation of riggers that went straight into business on their own.
To name but a few, there is pd of InSex and HardTied fame, James Mogul, Bob of RopeMarks, Drachenmann of BondageProject, and many others too numerous to mention. (If you too were inspired by Kikkou at the end of last century, feel free to let us know by leaving a comment.)
Mr Sekine eventually sold the site to Chiba Eizoh for $50k. Sometime during the change of the century/millennium there was a tightening of Japanese law concerning erotic content, and Kikkou went offline for a while. After lengthy negotiations and ironing out some legal issues the site was brought back by Osada Steve in 2001.
For those of you who are unfamiliar with the Japanese meaning of Kikkou, the term is used in conjunction with Shibari (Kikkou Shibari) to describe a kind of body harness with hexagonal (rope) patterns like those you would find on a turtle. Kikkou Shibari is often confused with the more simple harness sporting diamond patterns (Hishinawa).
The Kikkou site has more recently been enhanced by the works of light-painting wizard Z. Maitri, and also contains video streams of our very own Osada Steve. Last but not least, Kikkou is also graced with an in-depth treatise by Shibari scholar Master "K" about Ito Seiyu (1882-1961), the father of modern Kinbaku.
Now, what can I say, if you wish to find out how legends were made, take a look at Kikkou and enjoy the tour.
TieBreaker
Note: The Kikkou.com site has discontinued.