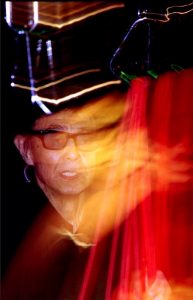 Kinbaku Grandmaster Osada Eikichi (March 15, 1925 to September 12, 2001)
September 12, 2023, marks the 22nd year since Osada Eikichi passed away.
It was in 1998 when I first met kinbaku grandmaster Osada Eikichi (長田英吉) during a photoshoot. This was at the Shinjuku Bondage Bar. In 1999, I arranged for Osada sensei to do weekly show gigs at the Roppongi Master's Bar. Almost by accident, I would soon become part of the razzmatazz Osada show act. As a pulley operator at first, my task was to lift the show partner into the air for Sensei doing his whip and candle work.
In those days, sensei was already pushing 74, small in height, and fairly frail. But once on stage, he became that wild, roaring lion. One night, however, while the show music was blaring loudly, sensei suddenly shouted, "Taoremasu! Taoremasu!" (I'm falling! I'm falling!") in the middle of his rope work. I quickly jumped to the rescue, supporting Sensei's frame from behind, while he continued tying nonstop. I tried my best to become almost invisible just like the kuroko (黒子), those men in black who control the puppets in traditional Japanese bunraku theater. It must have been quite a sight watching this large foreigner marionetting this frail man in the middle of an SM club with a table charge of $400.
The Master's Bar was on the third floor of a building with a swingers club one floor down, the Mistress Bar one floor up, and a private playroom/dungeon yet another floor up. The "system" in the bars was $100/hour with whisky on the rocks and soft drinks included. Lady's drinks cost extra. The mama-san made sure that the ladies were rotating at a profitable pace. Guests were encouraged to order bottles for "bottle keep" so they could continue being served from the same bottle with their name tag on their next visit. If you wanted to have a good time you could order a few bottles of champagne for $800 each – and the resident hostesses would always be at the ready to eagerly clink glasses.
The Master's Bar had several "slave" hostesses while the Mistress Bar was staffed with dominatrices. The Master's Bar catered to the dominant male, while the Mistress Bar was visited by submissive men who, upon entry, would be put in handcuffs and bullied by the ladies. If you were lucky, one of the higher-ranked mistresses or queens (jo-osama, 女王様) would put you on a leash and take you to the middle of the room for a good spanking and whipping.
But back to Osada sensei's show. In those days there was an extra "show" charge. Japan is good at creating extra charges, and that's one of the reasons why foreigners are having a hard time gaining entry into the more hardcore places because they don't understand the "system" and occasionally become belligerent if they feel like they are being "cheated". Depending on the establishment there could also be what I call a "haphazard" charge where the mama-san sizes you up and just adds a few hundred bucks to the bill because he or she feels like it. (Yes, the mama-san could either be male or female. Just because the manager of a nightlife establishment is male doesn't make him a papa-san.)
Since that "taoremasu!" incident, whenever Sensei was on stage, I was fearing he might collapse and die right then and there. And that's what eventually happened. But more about this later.
Several months onward, I converted my photo studio into an event space. April 1, 2000, saw the grand opening of Studio SIX to become the new "home" for Osada Eikichi sensei's shows. I had previously bought a few suites occupying a floor in an office building. In Japan, it is not uncommon to see bars and clubs scattered on each floor of tall buildings. For instance, Studio SIX is located on the 10th floor. Very soon the new venue doubled as Shibari Teaching Dojo and was hosting private bondage and domination services. The marathon bondage course proved very popular where you could book to be tied for 12 hours straight. There was always something going on eight days a week.
Each night, after the guests had left, I was doing chores to prepare for the next day. Often times Osada Eikichi sensei would sit on a couch watching me and say, "Steve, after I die you must do my shows until you master them 100%. After that, you should find your own style."
In those days, turning pro was the furthest from my mind. I was quite content with my role as a disciple and simply trying to improve my shibari skills at my own pace.
Yet, sensei became frailer and frailer and I had to mind his every step, even going with him to the bathroom. It was during that period that someone in the entourage came up with the idea of preserving the Osada name, and a process was set in motion to make me the officially designated successor to Osada Eikichi sensei. Many "industry" figures were consulted with Oda Hisashi sensei leading the way as chief emissary.
On January 20, 2001, Sensei had a stroke in the morning, and then did the last show of his life in the evening. He had to be helped by two men to keep his body from falling.
His show partner returned with him to his home but left him at the front door. Sensei was found the next morning half frozen outside in the cold. It took several days before people from the inner circle found out that sensei had been taken to a hospital not far from Studio SIX. I immediately paid him a visit. When he recognized me he broke out in tears. And, after all these years, when I think about that I will start crying too.
Sensei then spent the final ten months of his life in a home for the elderly. During that time I began taking over his shows.
The day sensei died on September 12, 2001, I became his successor and from then on was officially recognized as Osada Steve (長田スティーブ).
Osada Eikichi's CV and career highlights (abridged)
1925, March 15: Born in Tochigi Prefecture
1965: Establishes Osada Seminar kinbaku performances.
1978: Moves his performance act to the strip theater circuit.
1984: Produces the movie Orgasm (オルガズム).
1986: Starts doing shows with the legendary Saotome Hiromi (早乙女宏美), who had starred in SM Nikkatsu films since 1984. These shows were featured 20 days per month from 1986 to 1989.
1990: Manager at the strip theater Tsurumi Shinsekai.
1991 & 1992: Manager at the strip theater Wakamatsu Gekijo in Funabashi.
1998-1999: Weekly shows at the Bondage Bar in Shinjuku.
1999-2000: Weekly shows at the Master's Bar in Roppongi.
2000: Moves his performance and teaching activities to Studio SIX aka Osada-ryu HQ.
More info:
https://tokyobound.com/blog/?p=520
https://tokyobound.com/blog/?p=484
https://tokyobound.com/blog/?p=399