We now have a name to the face. In this case, a new face. Her name is Ren-chan. But unless you were at Kinbaku Live Night at Studio SIX this past Saturday, you don't actually get to see her face. I had to do some covering up to protect her privacy. A small price to pay in order to see the delicious pictures in this week's gallery. Ren-chan first showed up at the dojo on Thursday for her rehearsal, so to speak, with Osada Steve. She passed with flying colors and those of us who were in attendance Saturday night saw just why Steve chose to allow this perky young girl the opportunity to debut at Studio SIX. According to Steve, Ren-chan has virtually no experience being bound and dominated. Really? She must just be a natural, then. She looked so comfortable in the role it was nearly impossible to believe this was her first time.
Ren-chan had no problem at all making her way through the entirety of the night's regimen. And as you know, that's roughly four hours of kinbaku with some harsh discipline thrown in in the form of the short bamboo rod known as konjobo. I missed the first set, I must confess. Ren-chan was presented in traditional Japanese attire for this one. I did see her dressed as a schoolgirl and as an office lady. For the last set she donned a naughty white nighty and received her before-bedtime spanking punishment.
Since Ren-chan was on the clock, I think she was having entirely too much fun. On more than one occasion I'm sure I noticed a little smile form on her sweet lips. She revealed to Osada Steve afterwards that she had cum three times during the evening's proceedings. I didn't hear any "iku, iku", but I couldn't help but notice her glistening pussy. And no, it wasn't perspiration. Osada Steve noticed it, obviously, and ratcheted up the discipline accordingly. Multiple orgasms ensued.
Let's see: there were at least three of us taking pictures (for private use only, of course) which tends to give Steve's videographer (the Dennis Hopper look-alike) fits due to all the clicking shutters. Despite all the shutterbugs and regular spectators, I was able to set up my own tripod this time and got my own video camera into place. However, I don't have the video ready just yet because it's going to involve a bit more editing than I have time for at the moment. I will put up the video. If I get to it sooner rather than later, I'll attach it to this post, so keep an eye out. Otherwise, I'll include it with a subsequent post.
Update: Movie is now up.
While I'm on the subject, I seem to be accomplishing at least one of my New Year's resolutions: posting more consistently. I usually have the Studio SIX report up each week either on Sunday or Monday, Japan time. I'm keeping Fridays open as an option for posting other Osada Steve news and additional SM-related events. Of course, sometimes this stuff gets thrown in here. Like this:
In other news, the June 2008 issue of S & M Sniper magazine has hit the stands. It includes a DVD with several interesting video features. The month's cover girl is highlighted, of course. There are some newly-released DVD previews and a bloody look at the workings of Mira Kurumi. And then we have an interview with Esinem whom we interviewed ourselves here. Esinem came over from the U.K. a few months ago to study shibari with Osada Steve. The interviewer seemed particularly interested to know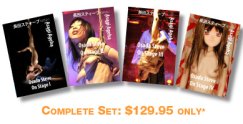 why Esinem had switched from studying with another well-known master to studying with Steve. I was impressed with Esinem's verbal dexterity as he handled these questions with the ease of a professional diplomat.
I will also mention here that the series of DVDs, Osada Steve on Stage, has been re-mastered and re-packaged. The series now boasts four action-packed discs of Steve's live shows with Asagi Ageha at strip theaters and other live venues across Japan. Hit the link and scroll down a bit to find the newly-minted videos. If you're like me and really enjoy seeing a beautiful girl stripped naked in front of paying customers and then bound for their pleasure, you owe it to yourself to get these DVDs. Here is a snippet from the review:
The first three DVDs have been completely re-mastered and follow the career of the Osada-Asagi team as they perform at Wakamatsu Gekijo, Kabukicho DX, and Jail Tokyo. The fourth DVD contains two club acts (Tokyo Decadance and Department H/KittyFire) plus a newaza live performance on the occasion of Yukimura Haruki's Kinbaku Happiokai.

The non-stop action of these performances allows the viewer to follow the ties as they develop, and provides an excellent compendium to the various tutorial series offered elsewhere on this site.

In total the series contains 13 live performances with a total running time of six hours and 20 minutes.
That's it for now. Hit the link below for this week's gallery. I've thrown in a few extra pics so you can get a feel for the interview S & M Sniper magazine conducted with Osada Steve and Esinem as well as a larger photo of Steve's new video series.
KabukiJoe