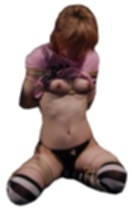 I mentioned previously that Ryo-chan often favors us with a self-bondage routine when she appears at Kinbaku Live Night at Studio SIX. This wasn't exactly accurate. What happens is, Osada Steve binds her in a certain way and then she takes to the air on her own, swinging, gyrating and generally contorting her body into all kinds of positions in an acrobatic and arousing rope dance.
There are a few artists out there who do a purely self-bondage routine. It is quite remarkable how they are able to tie themselves up and even hoist themselves into the air upside down. I first saw this sort of thing in a movie called Shocking Asia.
Some of you have probably seen, or at least heard of, this film. There's a Part II as well. I don't remember much about the second part, but the first one took the viewer to various parts of Asia, documenting along the way some of the region's most bizarre practices and rituals. In the Philippines, for example, we were "treated" to a sex change operation.
In Tokyo, the camera wandered into some sex establishments right out of the sinful seventies. There was a peep show, a woman inserting coins and even razor blades into her vagina and, of course, the aforementioned self-bondage act. When I first saw the movie (on videotape), I thought the producers had procured all this footage themselves. However, I later saw this same bondage footage in a Nikkatsu movie so I'm assuming the producers just "borrowed" the footage or made some sort of deal with Nikkatsu to use it in their film.
Although strip theaters have fallen on hard times, it's good to know they haven't completely disappeared and it's still possible to see some of these over-the-top performances. A few years ago I watched Osada Steve do a live show at a strip club out in Chiba prefecture. It was sandwiched between the regular striptease acts and at least one not-so-ordinary performance. This one featured an older stripper who looked like she was approaching 40 but, let me be clear: she still had the goods.
She also had the unique talent of being able to shoot darts out of her pussy with amazing speed and accuracy. An audience member got up on stage and she proceeded to launch a barrage of projectiles, bursting the balloons he was holding while narrowly missing his vital organs.
I don't think Ryo-chan has learned to do this one — yet. But when it comes to getting airborne in Steve's ropes, she definitely attracts everyone's attention.
The first time I saw her do her routine, she was dressed in a schoolgirl outfit and was whirling like a dervish. The video I have for you today is more methodical. The camera was a little too close so I had to cut it down quite a bit. Her solo contortions are toward the end of the video.
KabukiJoe