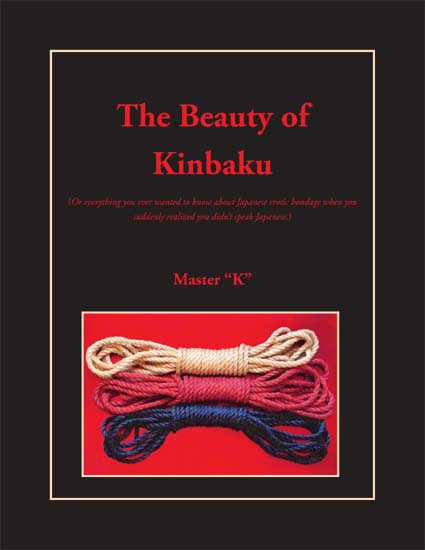 (Or everything you ever wanted to know about Japanese erotic bondage when you suddenly realized you didn't speak Japanese.)
To get this book for yourself, click here.
Osada Steve
And here comes my review of this must-have book:
Master "K" has done it again! This book is a masterpiece. The mother of all books on Kinbaku/Shibari. It's the yardstick with which all future books on the subject will be measured.
Not even in Japan do they publish such comprehensive, all-encompassing work. The author has spent years researching original sources, checking facts, translating rare documents, and interviewing key figures. The result is a sensational book that will forever change how Westerners view Shibari.
This book is such an interesting read and offers such a wealth of information, that its appeal reaches far beyond the rope community.
Right from the start Master "K" mesmerizes the reader by taking him on an exciting journey through the history of Japan, beginning with the Jomon Period (14,000 to 400 B.C.), known for using rope to create intricate patterns in pottery. Other than in the West, rope was soon to become an integral part of Japanese culture and society. It became the weapon of choice for taking prisoners on the battlefield or for capturing common criminals. In 1742 rope was officially included in a codified set of legal statutes as a tool for torture. It is during those times that what is known as hojojutsu/hobakujutsu, highly developed tying techniques reached their peaks as part of the fighting skills of the samurai and warrior class.
In the latter half of the Edo-period (1603-1868) Japan enjoyed stability and peace, and the drama and imagery associated with captured and bound women and men entered the arts. Kabuki plays kept teasing their audiences with men in rope, while many a Ukiyo-e artist satisfied demand for cruel torture images with woodblock prints.
The story continues with the first published novels and photo books of the early 19th century, setting the stage for an almost explosive growth of "secret" SM magazines after World War Two. This in turn led to the multibillion-dollar film and later video industry as we know it today.
Master "K" captivates and entrances the reader with his thrilling and fascinating account of how the use of rope developed into a celebrated art form known as Kinbaku/Shibari. Like a magician, no, like a God with an all-seeing eye, the author is putting all the pieces together to provide context, to convincingly explain the hitherto enigmatic role of the tying arts in modern Japanese society. It is this achievement for which Master "K" deserves a medal.
After a thrilling treat of history in the first of seven chapters, the author introduces 25 key figures who shaped the world of Kinbaku/Shibari. These well-researched biographies include photographers, illustrators, writers, movie directors and stars, as well as past and present bakushi. It is entertaining and interesting to learn about the sometimes very personal histories of these contributors to the art, and Master "K" generously treats the reader with anecdotes that make these key figures come alive.
The third part of the book consists of beautiful examples of various modern and traditional tying styles, including several hojojutsu styles. Over 100 color prints invite the reader to appraise the intricacies of some of the more complicated ties, or simply enjoy the beauty that rope can create on a young female's skin.
Chapter 4 offers an extensive glossary explaining many of the Japanese names and technical terms of almost every Kinbaku/Shibari or Hojojutsu tie there ever was.
If all this is making you wish for some hands-on advice, the reader is rewarded with a tutorial part in section 5, where the author guides us through three classical ties (a takatekote variation, an agura shibari, and a variation of hishinawa). These how-to's are apt to inspire the ambitious rigger to learn more, hopefully through one-on-one tuition from a recognized teacher.
The huge bibliography at the end of the book finally reveals why Master "K" is generally recognized as owning the largest collection of documents on the subject. The author's private library contains originals dating back to the 1800s that are not only unique in the West, but have also become impossible to obtain in Japan.
Never before has so much information on Kinbaku/Shibari been released in one single book. A remarkable scholastic achievement.
Master K's first book, "Shibari, the Art of Japanese Bondage" (Glitter/Secret Press, 2004) has been out of print for years. It is treasured by collectors, and fetches high prices among aficionados and connoisseurs. With a limited edition of only 1,000 copies, it's just a matter of time before "The Beauty Of Kinbaku" too will be sold out, before attaining cult status.
My advice: Get this jewel of a book before it's too late.
"The Beauty Of Kinbaku", Master K.,
ISBN 978-0-615-24876-9
192 pages, hardcover, 21.6 x 27.9 cm, American English
Price: US$ 89.99 plus s & h
Available exclusively from the publisher here:
www.thebeautyofkinbaku.com/