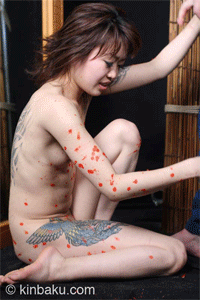 Old hat: Kinbaku Live Nights @ Studio SIX have received some kind of a cult following since unleashed to Shibari enthusiasts nine years ago. Judging by the high frequency of "gaijin" attendants, it has also caught up with the international JapanRope jet set.
Fresh hat: Succumbing to popular demand, Studio SIX is now offering a Kinbaku Light version on Wednesdays. The "light" means that the lights will shine brighter, though the pockets will be less light, as entry is not the usual $150 but a paltry $80 — assuming that 1 cent US trades as 1 yen JP.
Wednesday nights will on occasion feature "specialty" subs, a euphemism for models too edgy to present on Saturday nights. Like subs that crave for a fix of pain or are in need of some other "special" attention that would leave non-abnormal visitors puzzled — to put it mildly.
When in town, be sure to check it out. What you'll get is unadulterated rope action plus alpha — for a fraction of Saturday prices.
Also check here for details.