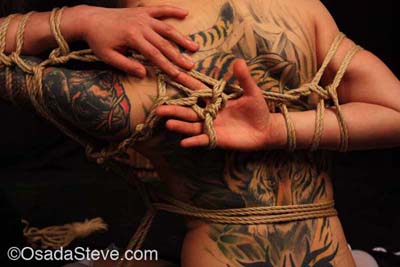 We don't get many of these. But if we do, we'd like to share. Below a report by a recent visitor (Mr Martin) to Tokyo and to Studio SIX:
The day I arrived in Tokyo, it was a Wednesday. So I went straight from my hotel to attend Osada Steve's weekly Kinbaku Live Special at Studio SIX. Eager to keep some digital memories, I opted for the "taking photos" course, and brought my camera along.With nothing else but a printout of the Studio SIX street map, I searched for the location. I found the street and the described place. However, no sign guided me to the Studio. Did I have the wrong description? But having traveled so far from Europe to Tokyo, I wasn't ready to give up.Luckily the Japanese are exceptionally friendly and always willing to help. So I entered a small restaurant and asked a cute waitress by pointing on the address of my map.  She seemed to understand and accompanied me out to the street to the building just next to the restaurant. However, since this was a high-security building the entrance was locked and secured by a code panel. Luckily, someone exited the building, and I managed to squeeze myself through the door.
I took the elevator up the Studio, a dojo-like affair with monster photo lights. There were friendly (of course) Japanese among the audience, and after a nice welcome Osada Steve started the performance together with his beautiful girl.The scenery was simply amazing. The intimate circumstances gave it a very private character. As soon as the show began Steve and the girl seemed to be in their own world, absolutely unconscious of the visitors. They made their own session for themselves and I felt like an intruder watching this performance while trying to take some photos to capture these precious moments.Steve touched his partner and never lost intimate contact to her throughout the session. I had never seen anything comparable. The rope seemed only an accessory in this intensive erotic play. It was a game of dominance and submission in which Osada Steve tied his victim with astonishing elegance. He was so fast in tying and untying and I was deeply impressed with its ease. He spanked, caressed, and dominated the girl with such fluidity that kept the erotic tension at 10,000 volts for the entire time. The girl melted in his arms and the expression in her face proved the effect of his moves.What an inspiring session. Wednesday nights last about three hours. On that night there were three different sets (see the galleries).
Needless to say that I was back for the four-hour Saturday session, again watching in awe and taking photos once more. I also bought a few lengths of original Osada rope, and now, being back in Europe, I have already had the pleasure of using them in my own bondage sessions with my beloved.
I surely hope I can come back to Tokyo soon.
Martin