Back in the old days, I had more time than money and only a single piece of rope.
Today, with a ton of rope at my disposal I have come to the conclusion that the duration and intensity of a session are not necessarily determined by the number of lengths in use.
Less is more. The more so, the less you think about it.
More pics here.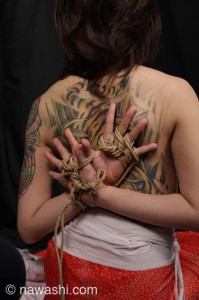 If no slide show appears below this text, refresh your screen.
[jalbum_iframe_album:https://tokyobound.com/blog/gallery/aiko-ipponnawa-3/,100%,600px]